GIORNI FELICI 2014
Curated by Marta Cereda
Casa Testori
31 May – 13 July 2014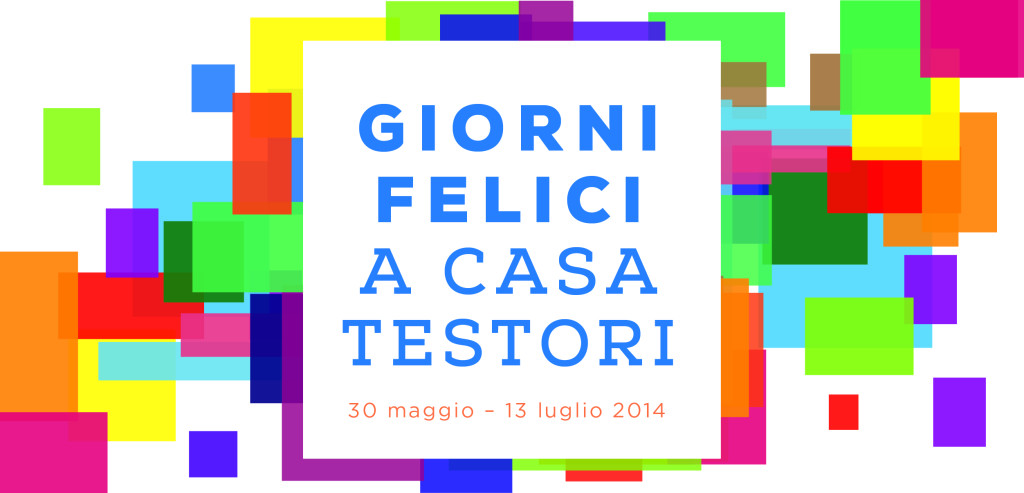 The fifth edition of Giorni Felici at Casa Testori has foreseen a new acceleration, taking advantage not only of the experience of the past seasons, but of how Casa Testori has matured and changed, exhibition after exhibition. Thus, the decision to invest in young people, which is in the very nature of this venue, takes the form of a brand-new curator, Marta Cereda, born in 1986.
As if that weren't enough, for the coordinated image, we decided to seek out our graphic designer from school: Omar Masato, born in 1994, selected from more than 40 proposals from the fourth-year students of the ITCS Erasmo da Rotterdam in Bollate. Real young people, in short, even younger than the under-35 artists in the exhibition.
Entrusting the work to a curator meant that, for the first time, a non-collective signature was applied to the choice of artists, and that the artists' taste was already formed and characterised. The visitor will have no difficulty in identifying a red thread among the artists, a love for purity and rarefaction, a happily feminine key that with delicacy and stubbornness has bent the reluctance of this large and welcoming house, convincing it to concede itself to the depths of its cellars and to invade the beautiful walls of the Testori factory, which this place has always embraced and protected.
"Giorni Felici (Happy Days), one of the most evocative cultural events on the Milan exhibition scene, is a perfect match for Sisal's commitment to promoting talent and training young people, central themes of the company's sustainability model. The work of Elisabetta Falanga, whom Sisal has decided to support as part of the Art for Business Mentorship project and to whom Casa Testori is dedicating two rooms, is a tangible sign that young people of merit, if valued and supported, can achieve important goals. With this same spirit Sisal has already supported talented young people in the fields of study, sport and fashion, through scholarships and support for start-ups. A commitment that today with Giorni Felici 2014 also embraces culture, the country's heritage of excellence".
The artists in the exhibition:
Ground floor: Atelier dell'Errore, Marco Basta, Chiara Briganti, Elisabetta Falanga, Diego Marcon, Piero Pizzi Cannella, Marija Sevic, Martin Disler
Primo Piano: Amedeo Abello, Agostino Bergamaschi, Giulia Berra, Andrea Bruschi, Marco De Sanctis, Margherita Moscardini, Gian Maria Tosatti, Anthony Zinonos
Garden: Massimo Dalla Pola, Vittoria Parrinello
Basement: Fatima Bianchi, Matteo Maino, Luca Monterastelli e Marzia Corinne Rossi
Special Guest: Thomas Ruff